We've never been known as big talkers – and we think that's a good thing. At Itechra, we prefer to let results speak for us.

Positive: Professionalism, Quality, Responsiveness, Value
"Our nonprofit organization switched to Itechra in early 2021 and we have been very pleased with the service. Staff are friendly and accommodating. The tech team has fixed issues that our old IT provider couldn't. We get great value for the price. Awesome company all around."

- Chris Johnson
Positive: Professionalism, Responsiveness
"Before working with Itechra, our organization dug itself into a deep IT hole with outdated equipment, security vulnerabilities, and a crumbling IT framework. After an IT audit, they offered a clear strategy to resolve our deficiencies over time that worked with our budget. After a few large projects and their ongoing managed services we are now in a position where our technology is working for us not against us."
- MN Assemblies of God
There's a Problem
with the Way Most IT Providers Approach Business IT Support
Stop us when this starts to sound familiar...

It's clear that your IT Provider doesn't care about good communication
The risk of losing work because something happens to take away access is greater when you have poor communication.

Your IT provider has no interest in your long-term success
The people who provide you with technology often have less interest in your success than the ones running it.

Your company's urgency with response time is being ignored
With so much on your plate, don't you think it's time to find an IT provider who cares to make you a priority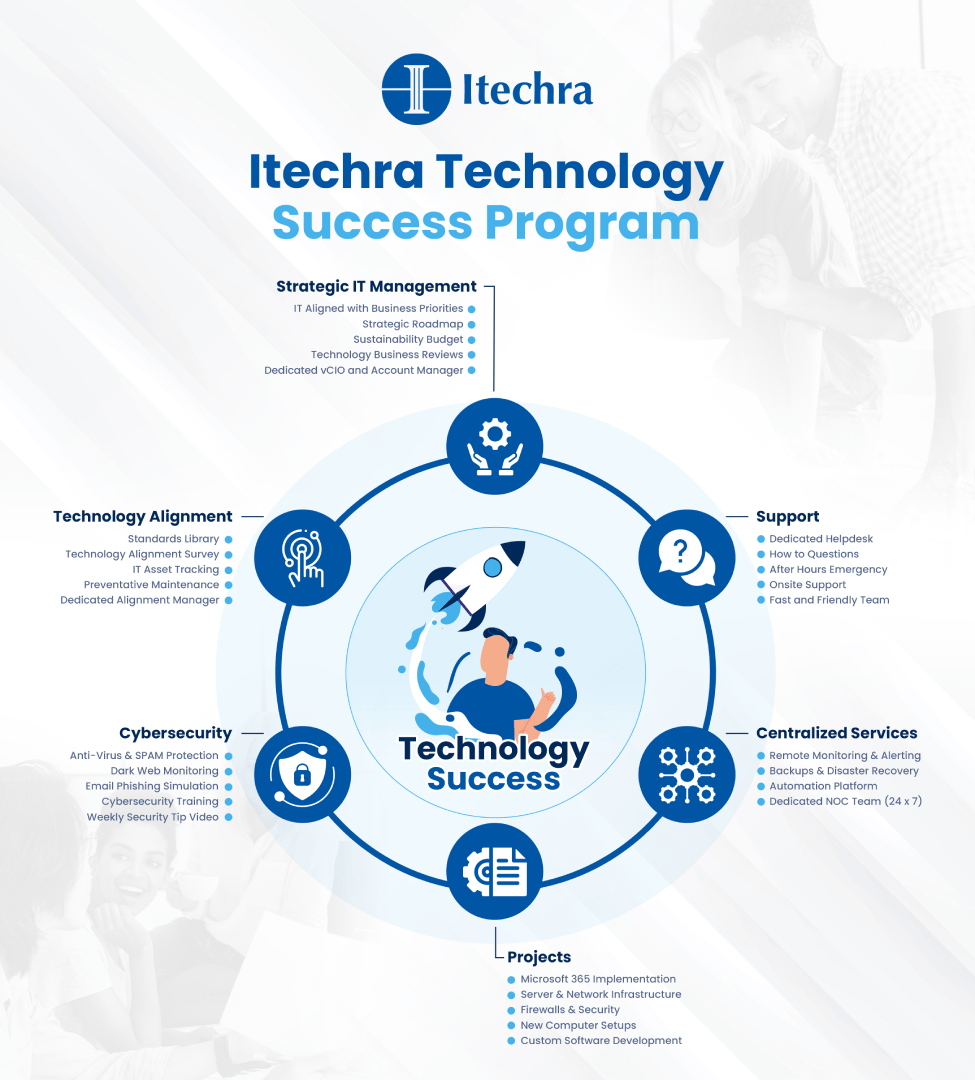 From 2000, we set out to solve what was then a major problem for small businesses: having difficulty keeping up with their IT needs. We noticed that large corporations often had multiple employees specializing in different aspects of the industry and realized this approach could work well also among smaller organizations who might not be able to sustain such teams, but still require help managing an oversized workload.
We provide a single resource for all your it issue.
Dedicated account manager

With the basics of your company all under control, you can focus on more profitable ventures for your company.

Save money with predictable fees

With our flat rate IT and managed services, you'll save cash every month that would have been otherwise used for your technology breakdowns.

Protect yourself with cybersecurity

Don't worry about your network being down at awkward times anymore. With Itechra's 24/7 monitoring, you can trust your network will be running when youneed it.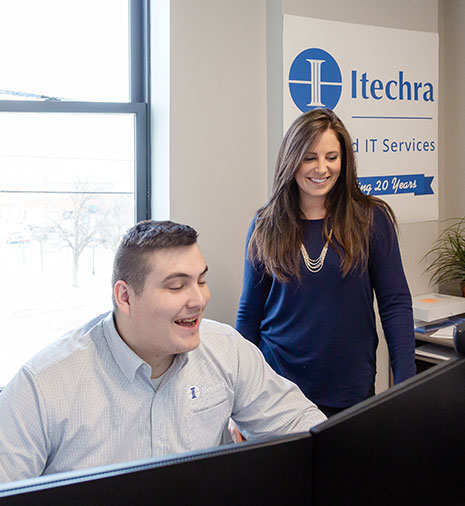 "It's not that we use technology, we live technology."
With the proper level of IT services and support, there's literally nothing your business can't accomplish. That's exactly what we want for you and, at the end of the day, that's what our IT consulting and managed services are all about.
Getting started is easy. Give us a call at (507) 454-2475 or complete the form below, and we will get in touch with you to set up an introductory phone call.
What Makes Itechra Solutions Different?
We Take a Personal Approach to IT Support

Clients Love Us
Customer support is our top priority. We do what we say that we are going to do while maintaining fair, transparent pricing. We even have over 96% "great" ratings with our customers.

The IT Risk Assessment
A constantly evolving checklist to ensure that client systems are as stable and consistent as they can be.

Transparent Billing
All items are detailed, so it is clear what you are paying for.
Communication
Client satisfaction and communication are key. Quarterly business reviews and client satisfaction meetings ensure services are meeting expectations.

Availability
Our team is well equipped to support your IT environment remotely. Local resources are available for site visits in the event of a serious issue that requires extra support.

Managed IT Support is Everything You Need "Day to Day
Some other providers don't include things like new PC deployments and system upgrades.
See What Itechra Clients are Saying
"Itechra has provided our IT support for over a year and we couldn't be happier with the results. Shortly after they took over, we noticed an immediate improvement in the stability and security of our systems. Itechra takes a holistic approach to maintaining our IT infrastructure and treats it as if it were their own. Their unique offering of regular onsite visits, remote server monitoring, and after hours accessibility provide us a cost effective means of meeting our IT needs."

- Randy J. Skarlupka, Miller Ingenuity
"want to commend your company for the outstanding job you've done for us. For many years I taught sales and customer service in corporations around the world. The key for any successful corporation is to develop people who are technically skillful in what they do, and teach them to partner with customers to solve problems.
In my opinion, you have that ideal combination in your staff."

- Pam Lund, MN District AG
Avoid the Headache of Managing Your IT Internally
Our managed IT services offerings give your business everything it needs to leverage modern technology to your advantage. No Hassle, No Hidden Costs.
At Itechra, we've designed our managed services offerings to give businesses like yours the benefits of having your own in-house IT department - at a fraction of the cost and with none of the headaches that normally come with it. Everything you require to leverage modern technology to your advantage - from help desk support to vendor management, backups to disaster recovery - is all provided with a fixed, predictable monthly cost.
Need help with an upcoming project? Let's work together to get it done on time and on budget.
At Itechra, we understand you need dependable support you can turn to - not someone who you have difficulty even getting on the phone. We offer a wide range of project and consulting services for you to choose from, whether you're looking for a major infrastructure upgrade, strategic IT planning or something far smaller in scale, we've got the experience and expertise to help.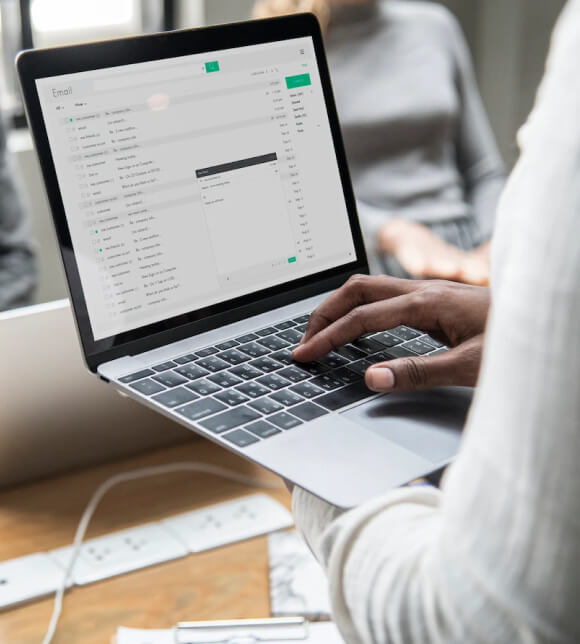 Enroll in Our Email Course and Learn the Basics of Exceptional IT
If you've never experienced Exceptional IT, knowing what to look for isn't always clear. We've created a course to help business leaders learn what IT should be. In this course, you'll learn:
When outsourcing IT is the right move versus managing tasks internally.
What an Exceptional IT security program looks like.
How to turn IT into a powerful vehicle for growth to increase productivity, automate smartly, and reduce overhead.
Periodic hardware failures and new or updated software are common. Although not considered maintenance, we include handling these situations alongside general maintenance, and they are included in our services.
It's important that you report any issues as soon as possible so we can help resolve them. You can either report them yourself or have your employees reach out to us directly. Either way, we'll be able to help resolve the issue quickly and efficiently. You'll never have to worry about hidden fees or unexpected charges with us.
We pride ourselves on providing excellent customer service. When you call us, you can expect a rapid, courteous response from a real person. We understand how important it is to be able to speak to someone directly when you have questions or concerns, and we will do everything we can to address your needs.
Our IT staff is also certified in a variety of industry-leading technologies. This allows us to offer our clients a wide range of services and support. We are committed to providing our clients with the best possible service and support.
As a leading provider of proactive cybersecurity solutions, we are committed to helping our clients stay one step ahead of the latest threats. Our comprehensive monitoring and detection capabilities provide early warning of potential attacks, allowing our clients to take preventive action before it is too late.
In addition to our proactive monitoring solutions, we also offer a full range of vulnerability scans, intrusion detection, and network security services. Our team of security experts are constantly monitoring the latest threats and developments in the cybersecurity landscape, so you can be confident that your business is always protected.