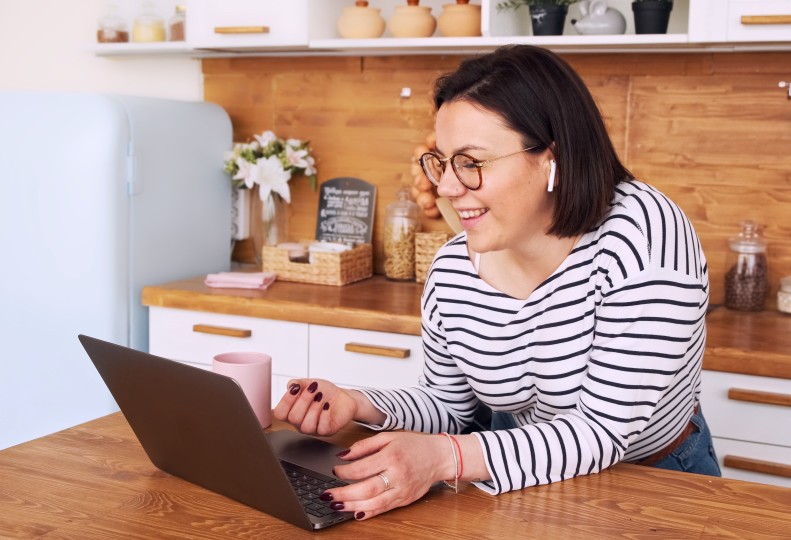 8 Cybersecurity Tips for Hybrid Companies
[et_pb_section fb_built="1″ _builder_version="4.11.4″ _module_preset="default"][et_pb_row _builder_version="4.11.4″ _module_preset="default"][et_pb_column _builder_version="4.11.4″ _module_preset="default" type="4_4″][et_pb_text _builder_version="4.11.4″ _module_preset="default" hover_enabled="0″ sticky_enabled="0″]
The COVID-19 pandemic has brought a significant shift into remote work, with many companies adopting a hybrid working style. Unfortunately, though convenient for employees, this shift has allowed for an increase in cyber threats, as hackers can now exploit new working-from-home vulnerabilities.
If your organization is new to hybrid or remote work, there are various things you can do to prioritize cybersecurity. Here are our best tips for companies whose teams work both in the office and at home:
Take Passwords Seriously
At Itechra, we'll always emphasize the importance of a strong password. Your password is your first line of defense against hackers, so it's vital to choose one that's unique. In addition, you'll want to ensure you use different passwords for all of your accounts and make it a goal to update them regularly. 
Each password should be long and not contain any information personal to you. This simply makes them easier for cybercriminals to guess. Need more tips on how to choose a good password? Take a look here.
And if you're worried about remembering all of these unique passwords, try using a password management tool. LastPass is our top recommendation.
Train Your Team
One of the most common reasons a security breach occurs is because of an employee mistake. Accidental or not, your team members must remain educated about the dangers of cybersecurity. The world of technology is constantly evolving, with new cyber threats popping up regularly. That's why you need to stay on top of these new threats and talk to a professional about how you can address them with your employees.
Work with your IT service provider to find training programs that focus on how to stay safe in a hybrid workspace. Even small mistakes, such as downloading an attachment or opening an email, can be detrimental to your organization. Making sure your employees educate themselves regarding hybrid workspace security can save you both time and money in the long run.
Focus on Phishing
Countless phishing scams take place over email every single day. If you want to prevent an attack on your hybrid company, remind your team members to avoid clicking on links or downloads in emails from senders they aren't familiar with.
Let them know who to contact should anything look suspicious. Regular training can help them understand what to look for and flag. Cyberattacks can be avoided the more intentional you are about what's hitting your inbox.
Create a Device Policy
If your team members use their personal devices for work-related tasks, they're opening up your company to additional security breaches. This is because their devices most likely don't have the updates and antivirus programs needed to keep their data safe.
Establishing a device policy is vital for protecting your company against cyberattacks. Let employees know which devices are safe to use and which should never be used for their work responsibilities. This way, they're using devices that have the proper software installed to keep your organization safe from cybercriminials.
Limit Sharing
The fewer employees who have access to sensitive data, the better – especially for a hybrid company. Take a look at the data you're sharing with your team members and who truly needs to be privy to such information. When your employees are on the go and working outside of the office, you'll want to make sure they have as little access to confidential data as possible.
Auditing your information is a great way to determine who requires access to what. Then, you'll want to work with your IT service provider to create a plan for sharing this information in the future. 
Use a VPN
Creating a VPN for employees to use when working remotely will help keep your data protected. If they're going to be working outside of their home and using a public Wi-Fi network, a VPN is a must-have.
VPNs encrypt any data that passes through a public Wi-Fi network. This will allow your team members to access the internet without hackers tracking their whereabouts. In addition, they won't have to worry about their data being intercepted, as the VPN hides it.
Take the time to research which VPN is best for your needs. Send us a message if you have any questions, as not all VPNs do the same job. It may be worth the money to invest in a solid VPN to guarantee your privacy.
Stay Proactive
One of the worst approaches we see regarding cybersecurity is when businesses simply react to problems instead of working to prevent them in the first place. Cyberattacks aren't something to merely wait out or take your chances with. Instead, you should stay on top of the cybersecurity landscape and the tools you need to stay safe from hackers.
If you're worried about remaining proactive in such an ever-changing industry, that's what finding the right partner is for.
Find the Right Partner
Working with the right IT service provider is one of the best things you can do to stay secure as a hybrid company. The right partner will provide you with proper antivirus, training, and updated information regarding cyber threats and how to prevent them.
Send us a message today if you're in the market for a new IT partner. We'll make sure you're prepared for any cyberattacks that come your way – big or small!
[/et_pb_text][/et_pb_column][/et_pb_row][/et_pb_section]